The annual Squash and Racketball Plate tournaments concluded last week, with two brilliantly contested finals taking place at the Lilleshall National Sports Centre.
The finals had been due to be played on 19 Dec, but were postponed into the New Year following the maintenance work which took place on the Club's courts.
Andy Reed and Dave Frost met in the Racketball Plate final on Weds 23 Jan and following some superb rallies and closely contested games, it was Andy who sealed the inaugural title with a 3-0 victory.
The Racketball Plate tournament, which was launched by the Club for the first time last year, was open to preliminary and first round losers of the main Racketball Open competition. Andy and Dave lost their first round Racketball Open matches against Pete Langston and Steve McClelland respectively, but then worked their way through the rest of the Plate field to face-off in the final. Andy and Dave defeated Tony Waldron and Tim Mansell respectively in their semi-final matches, prior to the final showdown.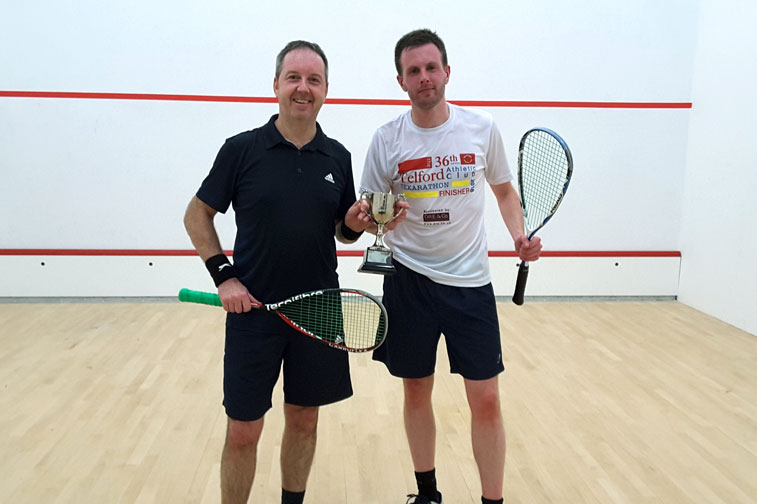 Steve McClelland and Joel Reed lined up in the Squash Plate final on Sat 26 Jan, with both players contributing to a high-quality match which showcased a series of tactical well-crafted rallies.
Joel missed the opportunity to convert three game balls in the opening game of the match, with Steve making him rue his errors, as he took the first game 20-18. Steve then went on to seal the title, edging the next two games 15-13 and 15-11, to complete a well-deserved 3-0 win.
The Squash Plate tournament was open to preliminary and first round losers of the Squash Open competition. Steve battled past Hardip Sahota and Stuart Clark in the earlier rounds to reach the final, having lost his Squash Open preliminary against Tony Vrahimis. Joel was previously beaten 3-0 by Pete Howells in the opening round of the Squash Open, but went on to defeat Dave Diss and Dave Frost on his way to the Plate final.
The highly anticipated Squash Open final had been due to be contested by Sam Clark and Tony Vrahimis last week, but it was postponed due to a recent injury picked up by Sam. The game will be rescheduled very soon.
Steve McClelland will be involved in final action once again, when he plays Kevin Redstone in the Racketball Open final, which is due to be played in the next few weeks.